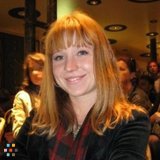 Alana Hippensteele
English Tutor with Cambridge Teaching Certificate
Tutor
Looking for Clients in Portland, OR.
Last seen over a week ago.
Tutor in Portland
I'm an English teacher with a certificate from Cambridge in teaching English as a second language, who also has experience working with American high school and college students in their writing skills and reading comprehension across all subjects. I have a BA in English and Art History with a minor in French, and I've taught English in classrooms in Hawaii, tutored English to French children ages 6 to 12 while living in Paris, and tutored English to Italian high school students while living in Florence, Italy. I now work as an ESL teacher at the Portland English Language Academy, and as a private tutor that can work with you online, at a cafe, or in your home. If you are an ESL student trying to learn English or a high school or college student wanting help with your writing or reading comprehension, call me at
808-228-...
, or reply to this post and send me a message. $25/hr for a single person $20/hr per person for groups
Tutor Details
Email Address

Confirmed

Phone Number
808-228-...

Confirmed

Provider Type
Individuals
Level
Early Development (Ages 4-6)
Elementary (Ages 6-14)
Secondary (Ages 14-18)
College/University

Services
Reading
Writing
English
English as a Second Language

Hourly Rate
$25.00

Notes made here will only be seen by you. If you want to message the owner of this listing
×
Alana Hippensteele English Tutor with Cambridge Teaching Certificate