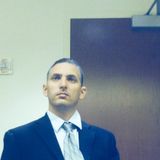 Alain F
Alain Fagundo Miami tutor with tutoring experience in multiple areas.
Reasons to Hire Me
5 years experience tutoring kids and adults.
Tutor in Miami, Florida
My name is Alain Fagundo. I am a Tutor at Florida International University. I have 3 years of tutoring experience, and I love to teach. I can help you learn the class materials to pass your exams. I have references. from various companies, and many self contracts I had in the pass. I can provide them to you if requested. My tutoring experience is strongest in the areas of Engineering Economy, then physics with calculus 2, later Math (Algebra, Geometry, Trigonometry, Calculus 1, 2, 3, Differential Equations, Analysis of engineering systems with mat-lab ), Chemistry (1,2), Physics (1,2), Biology, Geography, Computer programming (C , G code), foreign languages (Spanish, Italian & French), Economy (engineering economy, micro economics), and below are some others. Also, I give private lessons for anyone that may be interested in learning about Welding, cnc machining, 3D printing, carbon fiber, and glass fiber fabrication, simple circuits, Drafting by hand or using Auto-cad, or solid-works, programming using G code, C , C, Mat-lab, Driving instructions with stick shift or automatic vehicles, and motorcycles, swimming, and diving, CPR, first aid, safety and self defense, dancing (Salsa, Merengue, Bachata), money exchange conversion to travel around the world, and other essential skills you may need when traveling or for every day life. Please contact me using text messages or call, at times I will be tutoring other students and will not be able to receive calls at that moment, but I will call you back as soon as possible. I prefer text for the first time, that way when you contact me I will have all the details that you left in the message. 786-286-...
Services
English as a Second Language (ESL)
Recommendations
Madelin Medina
I recommend Alain F as a tutor
Share This Profile
Find Tutor in Miami, Florida