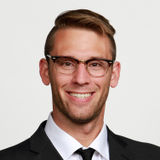 Austin T
Be tutored by a current Stanford student!
Tutor in Palo Alto, California
Austin grew up in a small beach town in Southern California, Seal Beach. He attended Los Alamitos High School where he was a member of the Junior Honor Guard, National Honor Society, Christian Club, and Street Ministry Club, recipient of the United States Marine Corps Scholastic Excellence Award, founder of the Ping Pong Club, and team captain for the Swim and Water Polo teams for 2 and 3 years respectively. Austin has been playing water polo since he was 8 years old. He competed at the highest level in club water polo, reaching national medal championships matches 5 times. Water polo gave Austin the wonderful opportunity to compete on the United States National Team for 4 years and travel to Obrenovac, Serbia, and Calgary, Canada where he competed in the Pan Pacific International Tournament. Austin played 3 years of water polo for Stanford before deciding to focus on school and take on larger roles in the religious groups he is involved in for his last year. At Stanford Austin pursued a degree in Architectural Design. He is especially interested in Integrated Enterprise, Integrated Project Delivery, as well as Building Information Modeling (BIM). Coursework included architecture studio classes, sustainable buildings, IPD, renewable energy, HVAC/building systems, civil engineering, earth systems, solid mechanics, multi-variable calculus and linear algebra. Austin excels in mathematics and enjoys passing on little tricks he has learned from his high school teachers. Austin credits his success to organization and time management. Austin has always had an interest in German language and German history. He has been taking German since his freshman year in high school and has since had the privilege of studying abroad at Stanford's program in Berlin, Germany. Austin took additional German classes at Stanford and returned to Berlin for a 6-month internship at an architecture firm, Krüger Schuberth Vandreike. Austin believes that if you are a student struggling in German class, hang in there! It gets better! Photography and filmmaking have been passions of Austin from a young age. He has taken a few classes at Stanford and would like to continue photographing, possibly doing wedding photography/videography in the future. His interest in photography, combined with his knowledge from architecture studio classes makes him a good tutor for just about anything artistic. Austin is also a veteran ocean lifeguard in Southern California. He is trained in Emergency Medical Response and is currently pursuing his Emergency Medical Technician certification. Austin is also a certified NAUI Scuba Diver and author of the 55 page paper The Burnside Buoy: the Design of Lifesaving. Austin received the peer voted Tower Guard of the Year award in both 2013 and 2014.
Share This Profile
Find Tutor in Palo Alto, California
More in Palo Alto, California