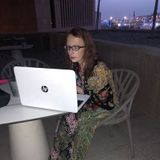 Dr. Amy R. N
Former college professor of literature and writing with a deep passion for teaching and a boundless capacity to be surprised.
Reasons to Hire Me
I am a uniquely passionate, creative, and effective teacher.
Tutor in Oakland, California
First comes perfecting the grounding elements of good writing: grammar, style, organization, argumentation, and related matters. Second, through close reading and discussion of literature, writing about it, comes the development of critical thinking, a skill transferable to all other disciplines, not to mention all aspects of life. Then comes test prep—those peculiar skills and tricks that get one through—and the perfection of the perfect college application essay, one that will stand out, move the exhausted committee with each student's singularity.
Services
English as a Second Language (ESL)
Recommendations
Latanne Malluhi
I recommend Dr. Amy R. N as a tutor
Latanne Malluhi
Professor Nestor has taught me as an undergraduate student at Georgetown University. It is no secret that she had been one of the most popular and inspiring instructors in our community, building close, personal ties with many of her students. I can honestly say that she has truly transformed the way I write. After taking her classes, I've become more aware of the potential power of my words, and more able to harness that power in the way that I express myself. She teaches you in a way that does not overwhelm you, providing specific, targeted feedback on your work that you slowly absorb and build on the more time that you spend with her. The things that she has taught me have stayed with me well beyond her classes, well beyond university. To this day, four years later, I still remember her comments and feedback, and implement them in everything that I write. If you could see the amount of time and effort she spent providing feedback on each of our papers, you would see how much she cares. It's not just a job to her; she has a passion for helping each of her students reach their full potential. I strongly recommend her as an instructor.
Jessamine Perez
Professor Nestor was my professor of writing in my freshman year in university, as well as of literature and cultural theory in my junior year. She was also one of the mentors I had when working on my 60-page senior year thesis. I am most fortunate to have had her, a dedicated thoughtful, patient, empathetic, and hardworking educator, as one of my professors. She has a strong ability in creating a productive rapport with her students, like myself, helping them with specific needs that they may have, such as in working on a particular form of prose writing. Her knowledge of writing, literature, and cultural theory are of great depth, knowledge that she effectively and engagingly communicates to her students. She has made me a better writer, reader, and thinker. She has provided me with such skills as critical thinking that have been useful to me in other subjects I took during university and beyond.
Share This Profile
Find Tutor in Oakland, California
More in Oakland, California