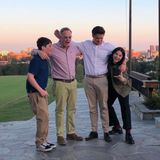 Caroline N
Hi! My name is Caroline, I am seventeen years old, and would love to use my advanced English skills to tutor your kid!
Tutor in Sherman Oaks, California
In the past year, I have been neuropsych tested as being in the 96th percentile of verbal reasoning, reading composition, and English for my age group. Therefore, Id like to use my skills to tutor kids about how to structure essays, analyze texts, learn the foundations of grammar, and everything else in between. My younger brother has high functioning autism, so I am more than comfortable with students who may need extra patience and encouragement. I am also able to work with students who have adhd, anxiety, or high functioning autism, as I am largely familiarized with the practice of cognitive behavioral therapy and am well informed enough to provide kids with strategies to manage school anxiety and stress.
Recommendations
Michael Jaffe
As she is assiduous, kind, compassionate, collaborative, and immeasurably, intellectually inquisitive, among her many other outstanding qualities, Caroline consistently demonstrated exceptional study habits, organizational skills, and leadership abilities during classroom activities. She also repeatedly showcased a shrewd intellect, only matched by her warm and compassionate demeanor. I have no doubt of her success in this tutoring program. I cannot recommend her highly enough. Please do not hesitate to contact me should you have any further questions.
Share This Profile
Find Tutor in Sherman Oaks, California
More in Sherman Oaks, California