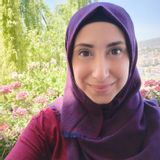 Alaa T
I have a master's degree in epidemiology, a BS degree in biology, and have been teaching for over 11 years.
Reasons to Hire Me
I can give you maximum value for your money
I plan my lessons thoroughly
I am energetic and dedicated
Tutor in Toronto, Ontario
I'm here to help you learn, develop thinking strategies and make the material you're studying relevant to your daily life. I plan my lessons thoroughly and provide practice questions, related video links, and lots of visuals. After each lesson, I will email you all the content we went through so that you can review it and get maximum value for your money. I'm looking for students who are curious, ask lots of questions, and have an intrinsic drive to do better.
Recommendations
Ali Yasseen
Alaa is an expert in her field and can help any student reach his/her goals. She will surprise you with how well she can break down and simplify concepts, and make them easy to retain. I highly recommend this tutor, you will be glad you hired her!
Share This Profile
Find Tutor in Toronto, Ontario