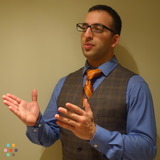 David D
Experienced professional Kaplan teacher/tutor GMAT. Invest in your future now!
Toronto, Ontario
Last seen over a week ago
Pay negotiable
Want to connect with David?
Tutor in Toronto, Ontario
Looking for a GMAT tutor? Planning an MBA? Get professional help

As a veteran Admissions Consultant with a 750 GMAT score, I have 7 years of teaching experience, a Rotman MBA, and a career in Banking. My services are targeted to professionals committed to taking their career to the next level.

I have been trained at, and have worked for two major test prep institutions, and have taught hundreds of satisfied students in Canada, the US, Hong Kong, and Tokyo. I have helped students get into Ivy League and top European MBA programs.

I specialize in:
-GMAT Teaching/Tutoring
-Application Consulting (Determining the right schools for your goals, and developing an application plan)
-Resume Building
-Essay Drafting
-Mock Interviewing

For those for whom English is a second language, please be advised that I am fluent in English and French, and conversational in Italian, Spanish, and Japanese.

Prior to any session, I am available to discuss in more detail on a call (or in person if you prefer) at no charge, your needs, goals and my tutoring process. This will also give us the chance to get to know each other better.

Below are some of my past student comments. Should you need more references from past/current students, let me know and I will provide them.

Lindsay B.
"Dave is personable and quite knowledgeable about the GMAT. As a tutor, Dave immediately made me feel comfortable, and unlike other tutors, like I could ask him virtually anything about math without being judged. I developed a confidence in my mathematics that I've never seen before. Dave tuned into my particular learning style and helped me understand math with both visual and verbal cues. I also found that Dave was accessible and flexible with his time periods."

Mel B.
"David was very thorough with his explanations and didn't move on until you really understood the fundamentals being taught in the Quant section of the GMAT. He used great real life examples which made the learning process that much easier. David was also very approachable and helpful. Thank you!!"

Elaine G.
"I decided to take a tutor for my GMAT prep after completing the Oxford GMAT Prep course. At that time, I realized I had a lot of "re-learning" to do and felt a tutor was my best option. I was referred to Dave through Oxford. I found him very easy to connect with and was comfortable working with him immediately. He was able to identify my weaknesses and provided me with strategies to solve the problems. We focused mainly on the quantitative section. I was extremely pleased with the experience I had working with Dave and would recommend his service to future GMAT students."

Arsalan T.
"I definitely recommend Dave to anyone looking at gaining an advantage at writing the GMAT, and the MBA application process. [...] Dave was able to teach me alternative ways of thinking about a problem, and made me aware that I need to be ready to attack a problem in a number of ways. He is always encouraging and maintains a wonderfully positive energy throughout the session. Dave always makes himself available for followup questions, I always received email replies quickly. I look forward to working with him on my MBA applications."

Andrea N.
"For me personally, Dave del Burgo was an inspiration from the very beginning. Every step towards my goal of being accepted into an MBA program, at one of the finest schools in the world, was under his expert guidance. His unfailing energy, passion and drive enabled me to not only reach my aspirations but also provided me with incredible confidence. Dave goes the extra distance by navigating his students to know the 'how' and also 'why'. His teaching style and program offer both solutions for the immediate future and, more importantly, how to approach problem solving for the long term. He is a consummate
professional and strategic thinker, motivating his students towards attaining the best results."

Jarek M.
"Dave helped me out with preparations to my GMAT test in 2012. He is very professional and friendly. He has this unique ability to identify personal weaknesses and strengths of his student and is able to focus on them to achieve results. He not only knew the GMAT requirements but also had a great understanding of all kinds of programs offered by schools requiring the GMAT test. He was a big help with personal advice on how to behave and how to adjust your personal expression and attitude to be more acceptable and shine in the eyes of the people you want to talk to. Other than professionalism Dave offers great flexibility when it comes to time, location and other teaching arrangements. He provides casual and informal atmosphere and knows how to make you comfortable during the session so you can focus on the material and forget about everything else."

Nina S.
"I met Dave del Burgo about [...] when I was first thinking about doing my GMAT in preparation for my MBA, and asked he be my tutor for the exam. He was very professional and truly cared about what my end goal was and on how to get me there as efficiently as possible. In a short while, I was feeling much more confident with the material and found that his methods of teaching were far better than any other experiences I had had such as quick weekend seminars and ""learn-it-yourself"" books. Dave taught me how to think like the exam creators and how to tackle the tough questions. After having tutored with Dave, my GMAT score improved by 150 points from the initial score I received [...] prior to tutoring with Dave. I was shocked at the improvement but thrilled because it was a key factor in my acceptance to the Queen's University MBA program which I completed last month. In conjunction with the GMAT prep, Dave asked me what my career goals were (and) we worked together on redrafting my resume to make it much more attractive [...] and again, it proved to be a winning formula. I used this resume format to land my current position as a Commercial Finance Controller at a large international corporation. While I too of course had to invest the time and effort into these successes, Dave was a driving force in me achieving my goals!"

Natalie V.
"David is awesome! He's very interactive and tries to engage you as much as possible..... really helps you to think logically about each question. He's energetic and makes the material easier to understand and get through. (Most useful: Strategies on how to tackle critical reasoning, SC CR)"

Oluchi N.
"Very good at explaining and reasoning as to why a specific answer is correct. (Verbal reasoning were most useful). Prepares the students very well and informs them accurately as to what to expect at the test centers."

Looking forward to working with you,
David

"Invest in your future now!"
---
Experience
Want to connect with David?
---
Services
---
Similar Profiles Nearby
Near Toronto, Ontario

Geoff D
Math Tutor(students grade 3-12) and Adult Computer Trainer, 20+ years experience, JUMP trained and affordable.

Amy C
Experienced Teacher and Tutor

Cheryl L
Need a Tutor in Cambridge?

Elizabeth O
Good Tutor For Your Kids

Mike F
Tutor: Math, Science, French, Music!
Find Tutors in Toronto, Ontario
Want to connect with David?
Similar Profiles Nearby
Near Toronto, Ontario

Geoff D
Math Tutor(students grade 3-12) and Adult Computer Trainer, 20+ years experience, JUMP trained and affordable.

Amy C
Experienced Teacher and Tutor

Cheryl L
Need a Tutor in Cambridge?

Elizabeth O
Good Tutor For Your Kids

Mike F
Tutor: Math, Science, French, Music!