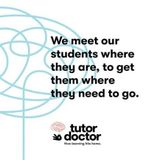 Amy B
I run Tutor Doctor Hartford-East and hire tutors for all subjects.
Tutor Job in Tolland, Connecticut
We're hiring! Special Education tutor needed in the Simsbury CT area! AP Biology tutor needed in the Ellington, CT area! Apply today using this link: https://....com/ or email your resume to
[email protected]
Tutor Doctor Hartford is a local company that services the Greater Hartford Area and most towns East of the River. If you're looking for some supplemental income and want to help students in the process - this is the perfect opportunity for you. WE HAVE AN IMMEDIATE OPENINGS FOR TUTORS. Job Type: Part-time Job Location: AP Biology in Ellington, CT Special Education in Simsbury, CT (tutoring to occur during school hours) We support our tutors by: Doing all of the marketing to get a steady stream of students from which our tutors can choose to fit their schedules. Doing in-home consultations with each and every family so they are pre-screened to keep our tutors safe. Qualifying every family so that our tutors can expect consistent and reliable tutoring. Handling all the payments from families so our tutors can simply go in and do what they do best - tutor! Providing reliable payment schedules for our tutors with none of the hassle of invoicing. Providing unparalleled support to our tutors so they're not alone. We don't just match a tutor with a student and walk away... we're there along the way to support our tutors with whatever they need. Bottom line... we appreciate our tutors and take very good care of them! Requirements: Retired teachers, college graduates and/or upper level college students who have experience working as a tutor, substitute, teacher's aide or Special Education support. Prior teaching, mentoring, tutoring and/or coaching experience a plus Access to reliable transportation Our prime tutoring hours occur between 3:30 and 9:00pm, Monday-Friday and weekends, although other times are sometimes requested.
Share This Profile
Find Tutor Jobs in Tolland, Connecticut
More jobs in Tolland, Connecticut