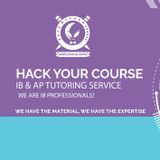 HACK YOUR COURSE AP & IB TUTORING SERVICE L
The Most Trusted Tutoring Service in the North and West Vancouver
Tutor Job in West Vancouver, British Columbia
Hack Your Course is the first premium IB focused tutoring service in Canada. We have been around for some time, and we know how to give our clients the highest quality of work. Read our reviews and find out more (https://g.page/hackyourcourse/review). We cover all IB courses, including IB Math tutoring (AA/AI), IB chemistry and physics tutoring, IB English tutoring, Internal assessment, Extended Essay and TOK and more. FIND US ONLINE AT www.....ca TO APPLY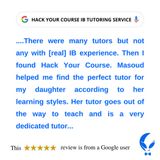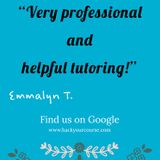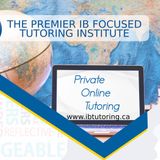 Services Needed
English as a Second Language (ESL)
Training
You have been trained as:
Recommendations
David Baker
High-quality work and brilliant tutors. Unlike other tutors, the tutors that hack your course introduced for Math and Chemistry of my son were very organized. We received a report detailing our son's progress every session. We tried some tutors from other institutes and even independent tutors but Hack your course worth the money. They call us every other session to check the quality of the tutor's work. My only problem is that they are more responsive to emails rather than calling, though they reply you in a matter of minutes. Benefits outweigh this problem.
Christopher Clark
My cousin who studied his past grades in his home country moved to Vancouver to continue his studies here. As the main goal of my uncle to send his son is that his son can get admission from UBC, he asked me to provide my cousin with the the best learning environment, I tried to find a good and professional tutoring company to help him adjust himself and get high marks. We tried two companies and also one independent tutor; however, I did not find them helpful and effective. Then, a friend of mine suggested Hack Your Course company to me as the tutors of Hack Your Course could boost up the marks of her sister. I called them and we had a meeting. The thing which impressed me in the first meeting was the attitude of the manager about the role of tutors in progress of students. They introduced two well-experienced tutors for math and chemistry. I found the tutors very dedicated and caring. We are still working with them to keep the marks of my cousin high so that he can finally get admission to UBC. I am really happy that I selected this company.
Share This Profile
Find Tutor Jobs in West Vancouver, British Columbia
More jobs in West Vancouver, British Columbia